Towels to change your world.
Bathroom style that makes perfect sense.
Super soft, organic cotton towels in a 7 piece set to cover all the tasks in the bathroom and beyond.  Giving your towels a dedicated task is much more hygienic and your towels will last a whole lot longer. You're left with a beautifully presented bathroom that you will want to spend time in.
See what super soft Whollygrail towels can do in your home .
Absorbency to dry you, without drying you.
After a relaxing, cleansing shower, it's a pleasure to wrap yourself up in a whole lot of love with super soft, organic cotton, that soaks up the excess moisture without dehydrating your skin. Complete the shower experience without compromise and soothe your skin from head to toe, leaving you calm and refreshed.
Wrap yourself in chemical free love
Restore your skin's hydration without the synthetic chemicals of conventionally produced towels and man made fibres. Beautifully soft, glowing skin comes with a good balance of health, inside and out. Reducing your exposure to synthetic chemicals is better for you, and the planet.
Up to 90% of environmental and social impact occurs before a product arrives to you
This is certainly the case with towels and sheets. But not Whollygrail towels and sheets. Our sustainable supply chain minimises environmental impact across the production process, without harsh chemicals, free from synthetic dyes, using closed loop systems for maximum recovery and 14,000 less litres of water across the production of an average towel or sheet set. It's third party audited and we think it's the only responsible way forward.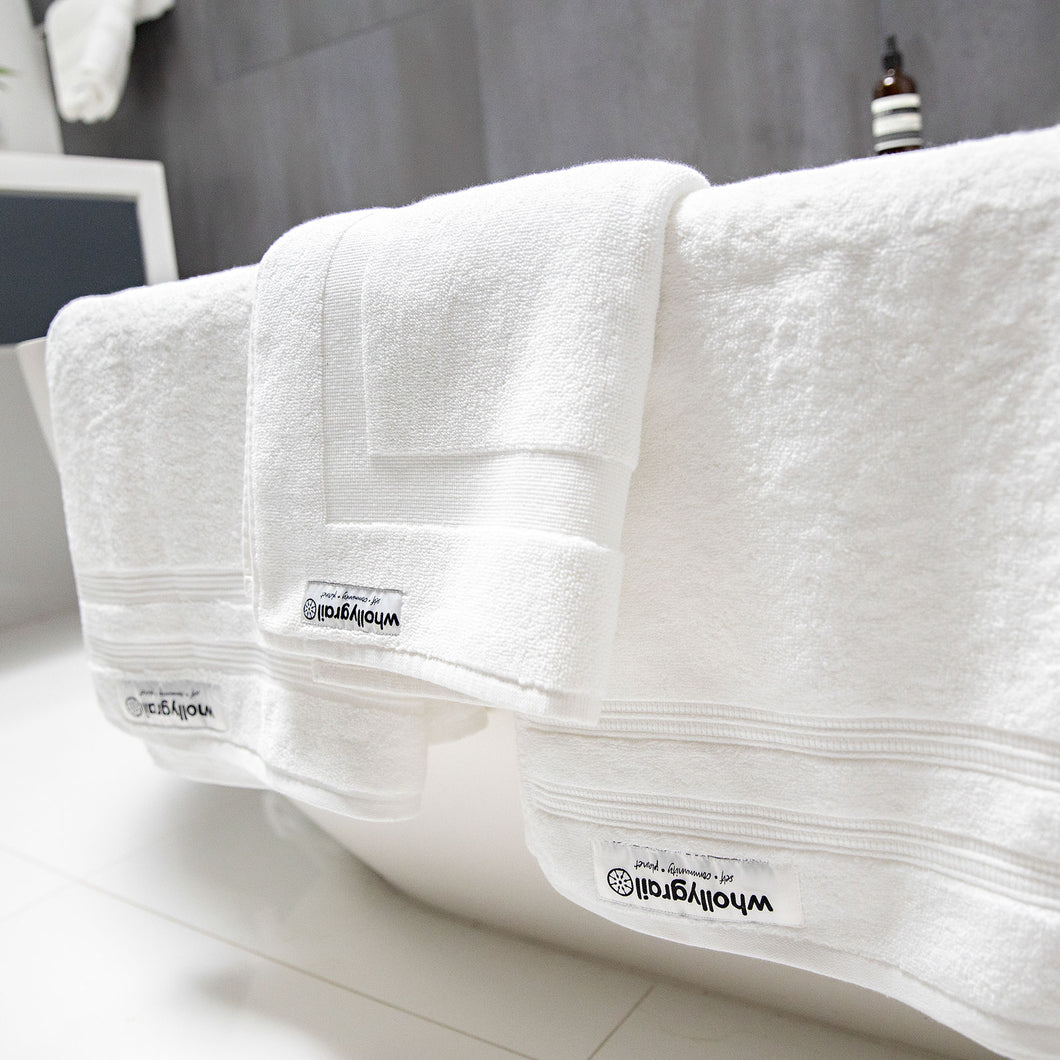 Colours that stand the test of time.
Choose from three neutral and contrasting colours, with safe, non azo dyes. Classic and contrasting neutrals are the perfect compliment for bathroom colour schemes and adapt easily to different environments. Style your bathroom with a combination of colours to create a dramatic and stunning impact.
Natural fibres of substance.
Super soft, organic cotton towels in our Whollygrail sets are a generous 700 GSM (grams per square metre) with a 900GSM mat that's the ultimate cloud cushion for your feet. It's a beautiful feel to touch and experience on your skin.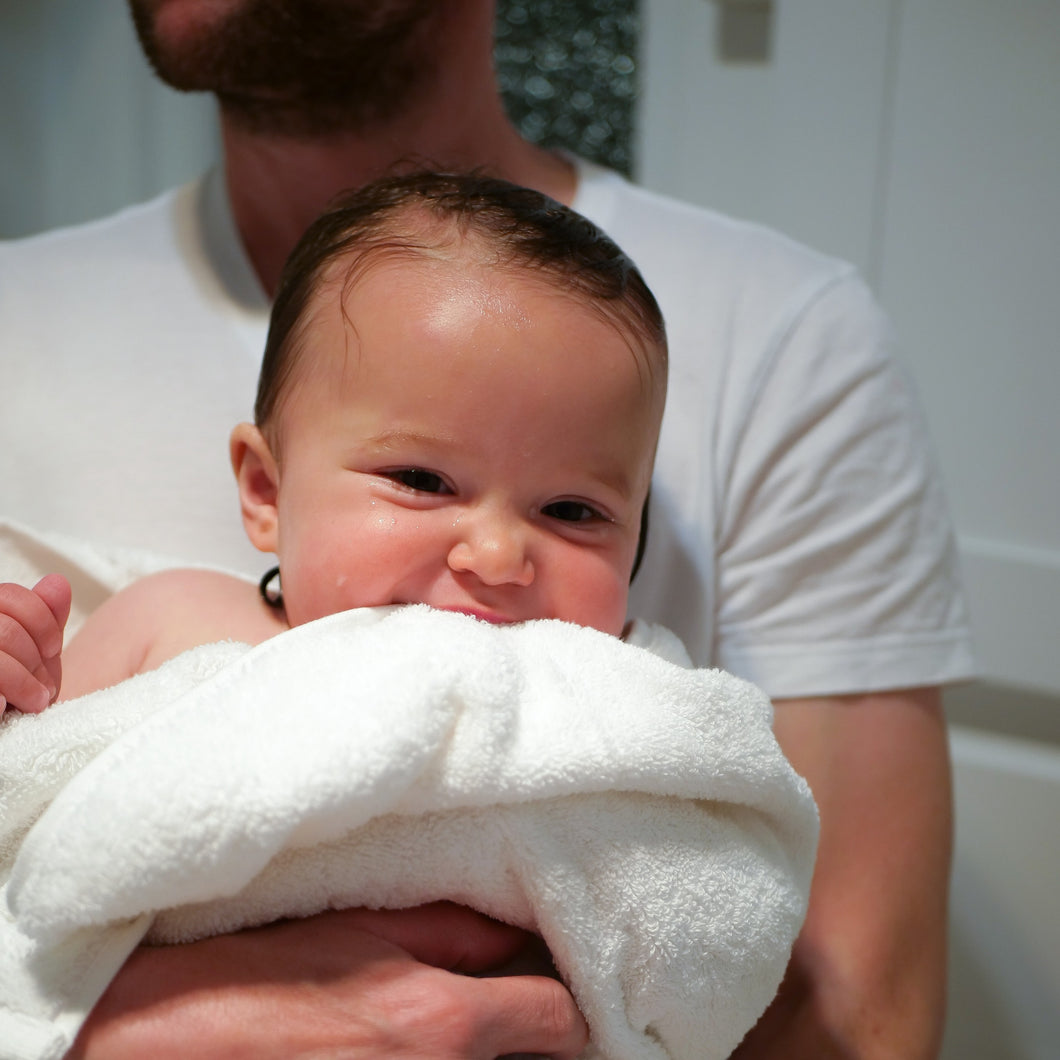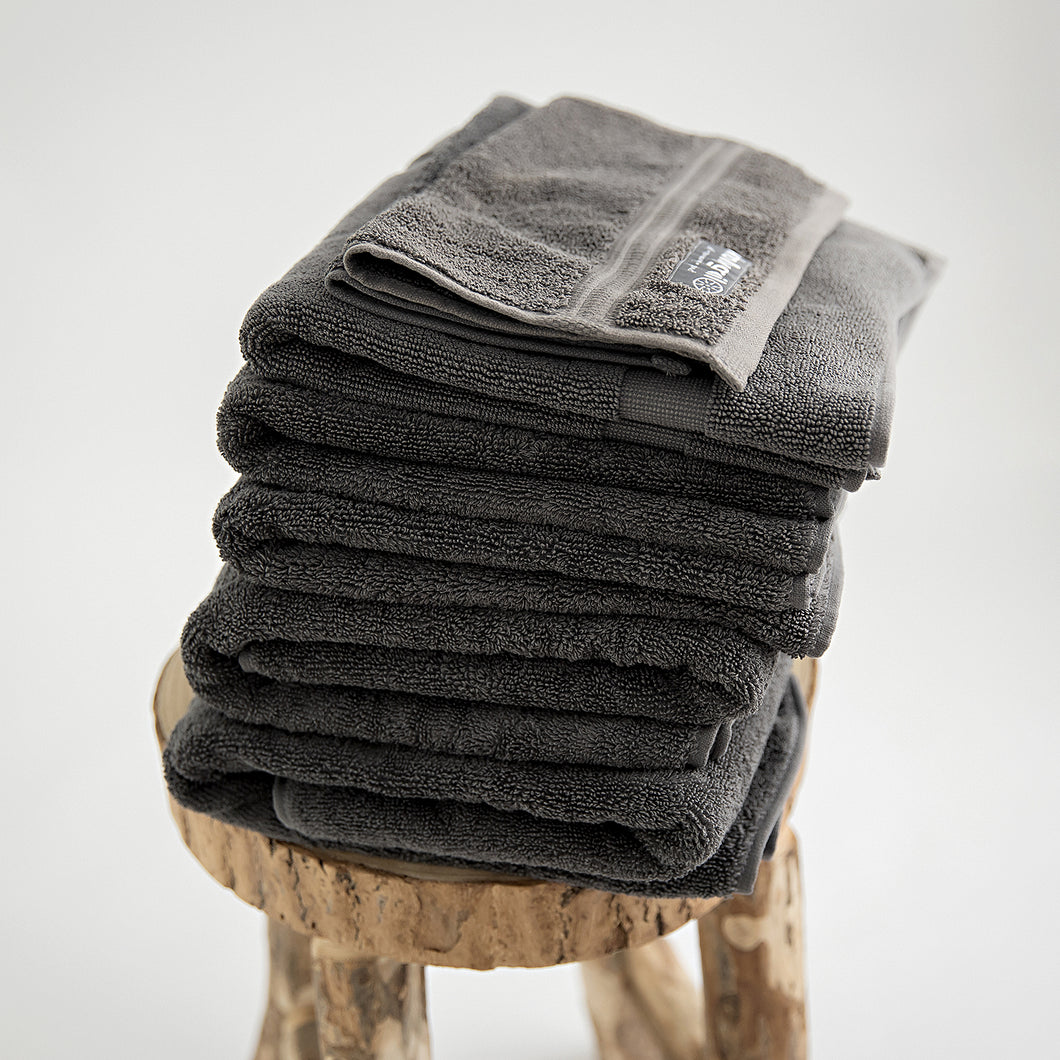 Compost without a trace.
Every time an item is washed, it sheds almost 2000 fibres into our oceans. Every wash. (Landmark worldwide coastline study by Australian ecologist Dr Mark Browne). Fibres from Whollygrail towels break down completely and safely.After your towels have lived a long life of service, moving to other household tasks, you may consider retiring them back to the earth. As they're natural cotton fibres, and free from any synthetic chemicals or toxic dyes, they're easily composted. Natural. Sustainable. Compostable. Zero waste.
Ethical & Fair Trade
This is care for your skin without compromise. Your towels come to you through a combination of small, family owned businesses; always under fair and equitable conditions, to ensure everyone's well being. Proudly supporting communities both locally and Noida, in Southern India.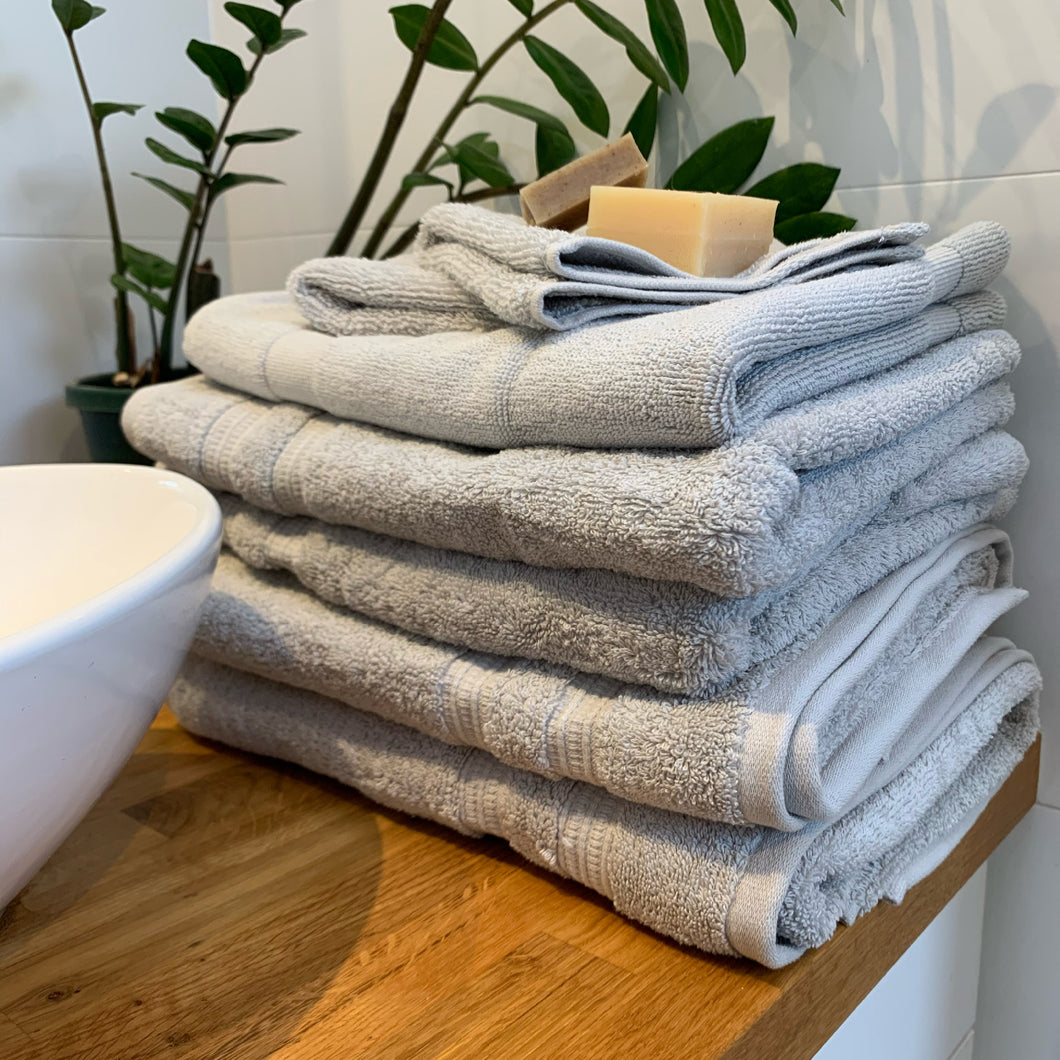 What are people saying about Whollygrail Towels?
"Super luxurious!"
"Why do I love my Whollygrail towels? Super luxurious. Really well priced. Fair trade and certified organic cotton. Oh, and they match the bathroom perfectly!."
—Jillian C., Blue Mountains, NSW
"They wash and wear really well, and my favourite is the oversized hand towels."
"I have the charcoal set. They're organic and fair trade cotton. They wash and wear amazingly well. My favourite are the hand towels. They're huge. It's a great size for kids as well. You have to get yourself a set of these towels from Whollygrail - they make a great gift as well."
- Kristy J., Sydney, NSW
"Lovely towels. Delivered very quickly and the note and complimentary soap included was a lovely touch." 
"Lovely towels. Delivered very quickly and the note and complimentary soap included was a lovely touch. I'm trying to support environmentally and people-conscious businesses wherever I can. So it was good to have found you."
 - Eda R.,  Balaclava, VIC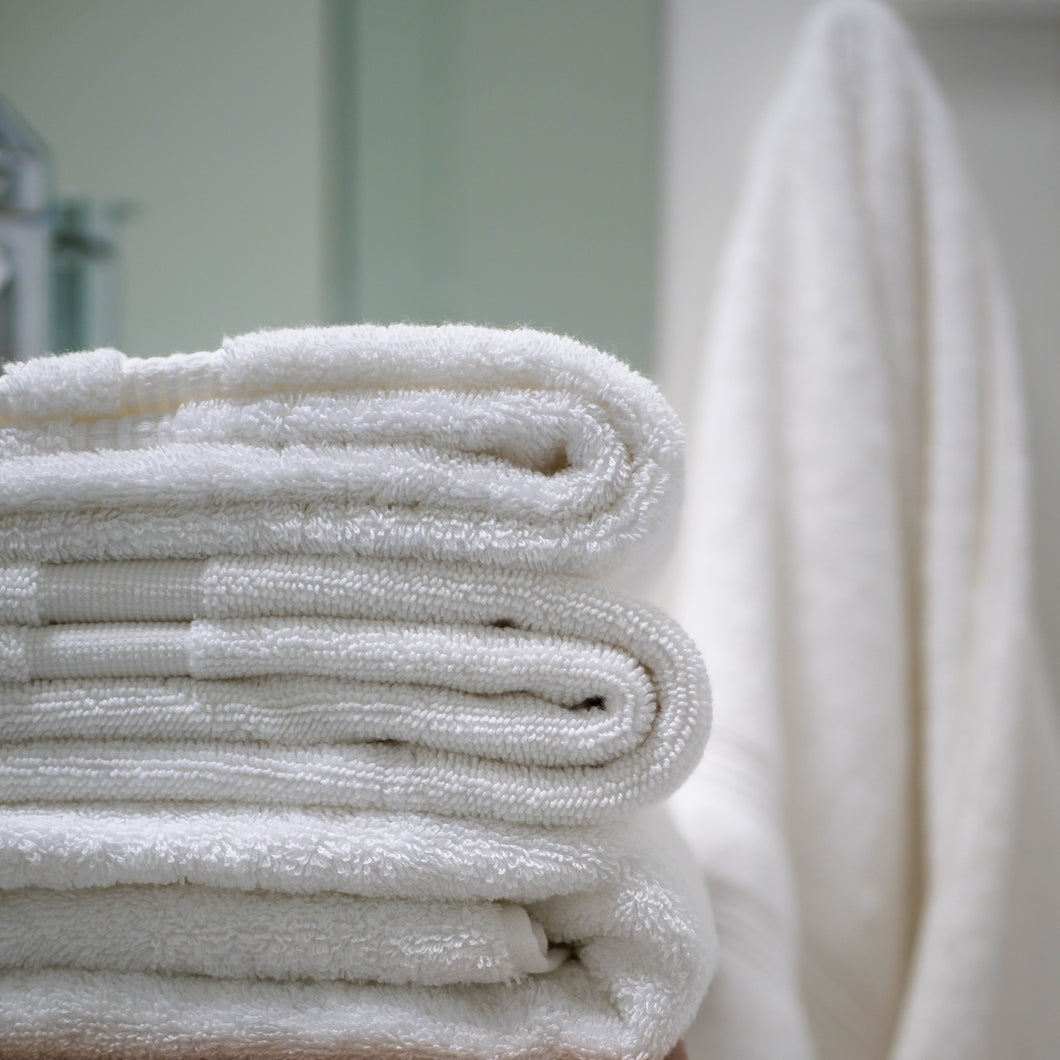 Warning. These towels are a pleasure to use and may cause heightened states of joy due to their ethical and sustainable credentials. Symptoms may persist.
Thank you for my beautiful towels. I'm excited to make up two contrasting sets in my bathroom!
Love what you're doing with Whollygrail. My towels are gorgeous and it's good to know I'm supporting Australian small business. Have been reading about your supply chain philosophy. It's now my philosophy, thank you!
Loved the whole experience. Nothing to add to my bin, tick! and the handwritten note and gifted soap made my day. Love my towels! All of them - I may love the hand towels more. xx